Photo a week challenge #3...Well Worn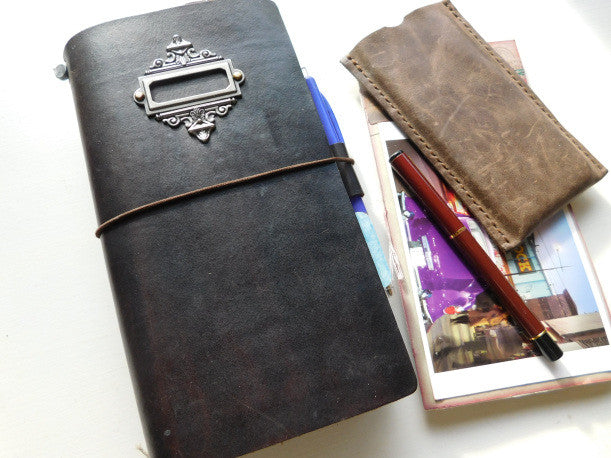 This weeks #weeklyphotochallenge is prompt #3 from the list...Well worn.  For this I have chosen my almost oldest Traveler...which was from before I threaded the edges with a sealer and just used Bees wax to polish the edges. It has this very deep dark brown color and it makes me happy to look at and hold. The cover is treated with both Bees wax and oil and this gives it this lovely sheen.
However, before I elaborate on this here Traveler, I'll post the challenge prompts again, so they are easy to find.
and show you a sneak peek of this weeks winner in the Lady Falcon group for #weeklyphotochallenge2016nr2, Notebook essentials.
Thank you for participating Robin. You can find her photo's in the Lady Falcon Traveler's Notebook group. This weeks challenge prompt was about a well worn Notebook
This one is indeed a well worn one and has been in use as my shop's planner for almost 2 years now.
With me opening the shop in 2013 on DaWanda and starting making Traveler's in the second half of that year, it's seen quite some changes already.
With new notebooks added once in a while
Sometimes having to transfer ideas and stuff from one notebook to the other, resulting in pages and pages scribbled full of stuff I would like to make...
Still my old and trusty Zipper insert from Midori, which has my silver leaf project, which I'm not sure if I will ever finish, because I'm just not a jewelry girl...
I had to take out my daily/weekly worksheet and tasks insert, because it was full, and have yet to replace it with a new one. This gives a nice view of the leather card holder I have in there with lots of business card, in case I need one.
With the back side of the card holder you can get a good view of the pen-loops, which are essentially the same as the pen-loops I glue onto the folders, only these have been sewn on. I think they look very nice and classy =)
And the rear view of my Shop Traveler...this side gets to endure the most, I guess. I do think with 2 years of constant use, and no additional conditioning and stuff, it still looks good
The spine has a little wear, however the original elastic is still going strong. Since I've been adding double elastics for quite some time now and this one still has the single!
And of course the obligatory extra bookmarks with tiny charms...because I like to play...or fidget as some might say. There you have it, a well worn Notebook. I love it to bits! Hope you join us with the photochallenge in the lady Falcon Traveler's Notebook group. I'd love to see you Well Worn Travelers. Use #weeklyphotochallenge2016nr3 to eligable to enter into the contest and have a chance at one of the 2 prizes at the end of the year (read all about that here)
Have a great week xx Monique
Leave a comment
Comments will be approved before showing up.