My Planner Last Month, November 2017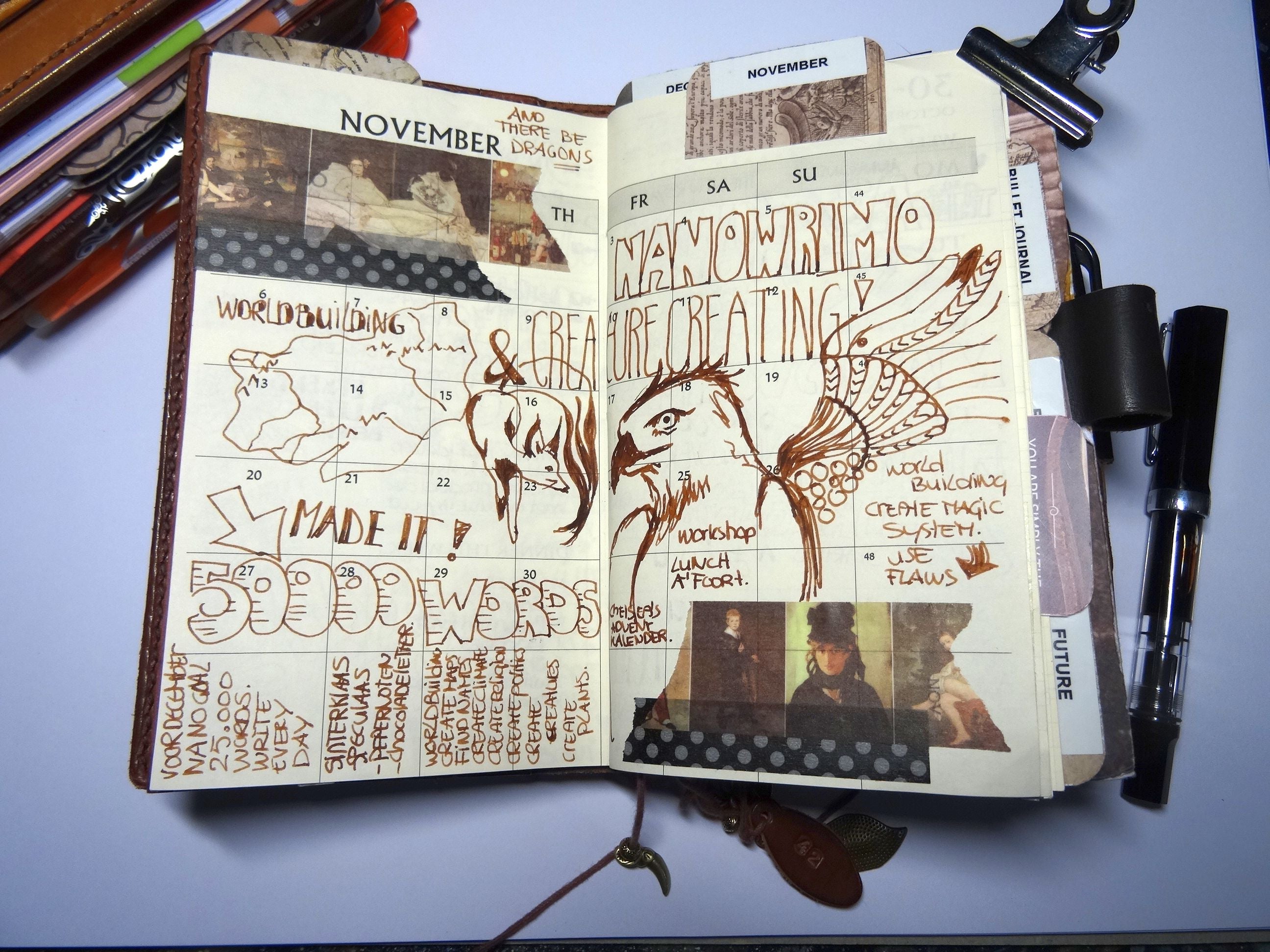 Last month was NaNoWriMo, National Novel Writing Month, which has gone global and although I tried my best to keep up with my diary, I'm afraid my decorating did suffer a bit from my daily novel writing goal.
Fortunately it was all not in vain, because I did succeed in writing 50,000 words by November 27.
Although my initial goal to write an entire story from start to finish did not turn out exactly how I planned it.
That is, I did write the complete outline, but when fleshing out the story and writing the scenes, I found out that the story I'm writing would not fit in 50.000 words. Or even in 1 book.
So I did write an entire story, with beginning middle and end, but have only the first book ready to start editing.
I did some kind of writing lesson every day and wrote some journaling in my NaNoWriMo insert to get me going with writing. ...and to keep me on my toes, decided to start learning Hiragana. Which obviously required a new insert and a new TN...
I did try to keep up with my planner, but found myself only adding some decorations after the week was over.
Which was fine. I may even continue to do it like that for a while, or till I get my new washi tapes...
As you can see above, by this time I was just slapping down some washi to fill the empty spaces. It was a hefty month, with the start of our first intern, NaNoWriMo, Black Friday and Cyber Monday sales in the shop, a reunion concert by my husbands old band and a computer that crashed completely...
Still I managed to get through it all and have even set a new writing goal for December. A little less ambitious this time, half as many words...only 10 more scenes to write and then the big editing can begin.
Still on track with our orders and I even managed to take the weekend off for a change. So yay for planning all the things and structuring all the tasks. My little B6 slim is working great to get the personal stuff done and recorded and my A5 workhorse is a life saver.
 It keeps my bullet journal in the back. It has an insert for keeping track of supplies. It has my time tracking insert with a week on 4 pages, without which I would not know what to do anymore. My quick posts insert, with all the pics we take during the week, so that I know what to post when to Facebook and Instagram. And lastly an insert for blogposts and newsletters.
 He's getting rather hefty, but since I don't need to take him out the door with me, well not usually, it's fine and I really love holding it and working through my tasks =)
Which is how it should be.
I hope you all have a lovely week and happy planning.
xoxo Monique
Leave a comment
Comments will be approved before showing up.