Hiragana Practice insert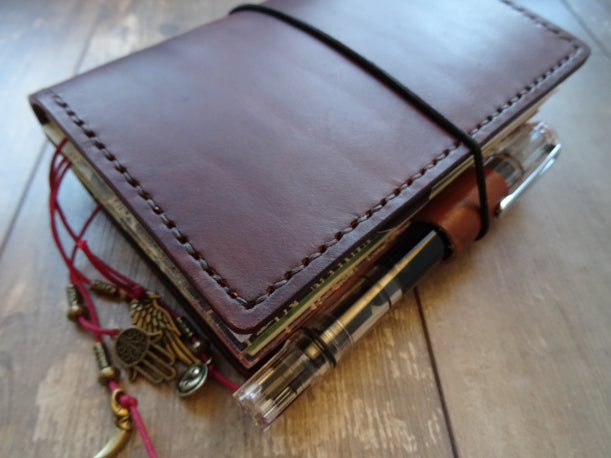 #todaysupdate
... something completely different. I was requested to make a gift for a friend this week, but was too eager to start, so I started in the wrong color... That meant I had to make a new one for her...in Royal Blue... yes, a new color ;-)
Now what to do with the pretty brown one...well, waste not want not... since I already dropped of the wagon with #onebookjuly and went from 2 to 3 notebooks, I figured why not... So I'm now back on 4, lol.
This one is an A6 in #31 dark brown.
I used it to test saddle soap and am now using it as my series tracker but most importantly to learn Japanese writing.
I started about a week ago with learning Japanese through Duolingo, but was getting nowhere. Learning both new words and new letters proved to be too much for my brain and I wasn't getting any of it.
So I made a practice insert for Hiragana letters. With a few overview sheets.
and some general practice sheets.
But mostly with letters practice sheets... 2 pages per letter. Or should I say sign, I'm not sure...I'm that much of a beginner =)
I made it available with the free inserts for anyone who would like to practice Hiragana.
I'm quite happy with how my little A6 is looking so far.
Still need to add lots of bits in the folders. Here's the first folder I made with the new paper line we have for inserts and folders.
Even my TWSBI is feeling happy. This one has an extra fine nib and J. Herbin Perle Noir ink, to help me practice my Hiragana.
I adore the #31 dark brown, so happy with how it turned out.
I hope you enjoyed this and be sure to let me know if you like the practice insert, or if you'd like it in a different size .
Hope you have a fabulous weekend,
xoxo Monique
1 Response
Leave a comment
Comments will be approved before showing up.