Newsletter, November 2017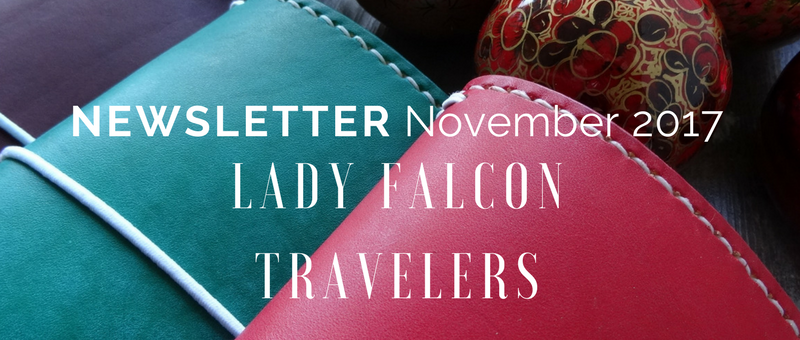 Black Friday & Cyber Monday Sales
We have two different coupons for this Black Friday and Cyber Monday for you.
Black Friday
This friday, November 24, we are having a sale on all the Ready to ship items in the shop. Use the code "BLACKFRIDAY" for 20% off any Ready to ship Lady Falcon Traveler.
Cyber Monday
To continue the fun for Cyber Monday, November 27, we have a 10% off coupon for all orders, "CYBERMONDAY".
Holiday Season Special Collection
The 
Holiday Season Special Collection
 consists of three lovely festive colors. This collection is discounted by 10% before any coupon.
If you order your Lady Falcon Traveler from the Special collection, with the
CYBERMONDAY
 coupon for 10% off your order, you can save 20% in total on your Special Leather Notebook Cover.
#20 Red
#4 Green
#6 Mahogany
New Colors
We replaced a few colors for the Lady Falcon Notebooks in Saddle leather with new dyes.
#2 light blue has been replaced with #51 Royal Blue
#4 Green has been replaced with a new type of Green dye, so still green, but different.
You can find all the colors via the gallery. This also makes it easier to compare colors. You can click on any of the images to open that color gallery and hold it next to another color's gallery.
New Additions
This month we added the new budget line 
Morgana Leather
 to our shop, with three different Fall colors. Plum, Olive and Blueberry. Morgana is a 2.5 mm thick oil tanned leather, firm but flexible. These three colors will be available throughout the rest of the fall. Next season we will have new colors for you to choose from.
We also replaced our previous
 insert design covers
 with 4 new designs. In the following month we will add several other designs to the 4 already listed.
Official Training Company 
We are glad to announce that from November this year we are officially a training company for students learning to be Creative Craftsman. Our first lovely intern, Bo, has started last week and is learning the tricks of the trade already. Bo will be with us till the end of January 2018 and will then continue her studies elsewhere.
Holidays and Shipping
Please keep in mind that if you want your Lady Falcon Traveler to arrive in time for Christmas, it's best to order before the end of November. Especially when you are outside of Europe.
Even though we will do our best to get your order out in time, we cannot guarantee that it will arrive in time after that, due to unforeseen shipping delays in the December mail.
Please remember that we are a small company with mostly handmade, made to order items. Order numbers well over the normal order load will lead to a longer time before shipping.
Have a wonderful week,
XOXO Monique
Leave a comment
Comments will be approved before showing up.