Traveler's Notebook Planner flip-through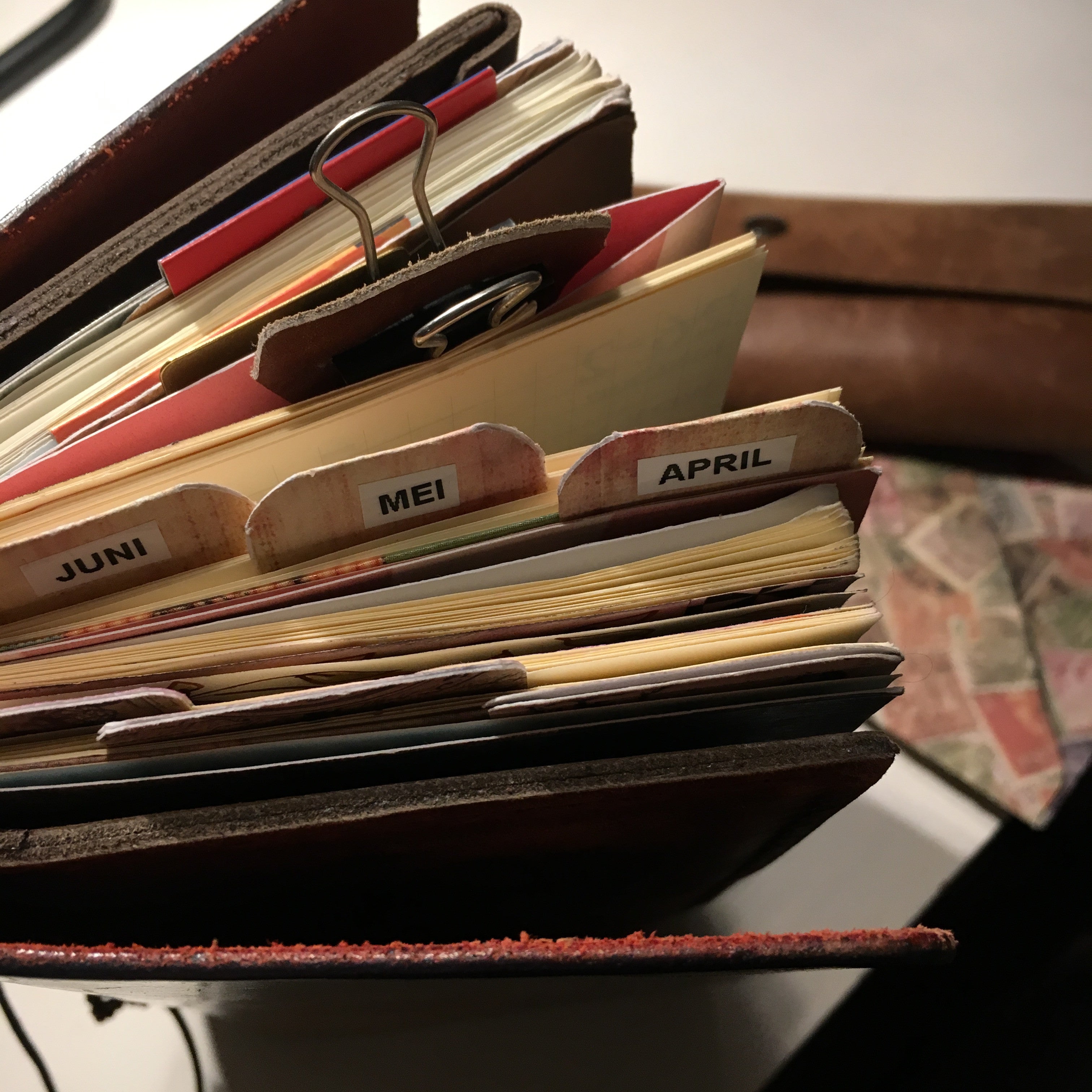 At the start of the year I made a set-up video of my planner at that moment. Now after 4 months into the system I'm still loving the current set-up. Although I did make some changes along the way. One change was the addition of a daily pages planner, which I use mainly for daily doodles and quotes. The other one is the recent addition of an A5 planner to keep track of how I spend my time during the day. Especially with a home based business it's hard to realize some time for Family and personal stuff. I hope with this new time management and time tracking system to be able to get a better grip on where and how I spend my time and in a way, to convince myself that it is ok to take some personal time every now and again. Today I made 2 video's. The first with a flip-through of my weekly and daily planner inserts and my journaling insert and the other with the new A5 work planner and the time tracking insert, which is basically a vertical week on 4 pages insert, with stylized time bar. (Still looking for a name for the system). You can find the flip-through here https://youtu.be/waz-CFLeeXA And the A5 work planner with time-management insert here https://youtu.be/TlCTW2pm_U0 Once I have tested the time-management system I will add it to the available inserts we have available through the shop. For now, after just one week of trying it out, I can say that I'm really happy with how it's working and the division between planning and tracking is really nice. It show exactly how you can plan things for the day and then life happens and in the end something else happened entirely. It also helps me to see that I spend too much time on the job and not enough time with my family, which, of course is a risk you run by owning a home based business.
I'm really hoping the system will help me not only to plan better, by identifying the things that interfere with the planning, but also to help me create more time for my family. After all, when you can see that you already put in a 10 hour day, it's easier to say, "ok enough for the day, time to do something else".  Where I might otherwise just have gone on, because I lost track of time... The 2 colors pen also help identify the personal time and the work time. For now I do it all with Frixion pens, but who knows I might become confident enough in the future to switch back to fountain pens, I already have the brown and orange ink for it...
I'm pretty happy with the current lay-out. It's nice and clean, it has a visual representation of the day, with the larger stripes on the midday section and has a practical bar to the right side to track the actual time spent. The left side, the planning side is smaller, since I think I can manage the planning with key words, whereas I probably need more room to the right, tracking side, for any notes or larger descriptions of the things that have passed. Hope you enjoyed watching the video's with me rambling about planners. Please let me know what you think in the comments, or maybe when you think of a catchy name for the tracking system. Have a lovely week, xoxo Monique
2 Responses
Leave a comment
Comments will be approved before showing up.