What's new this February.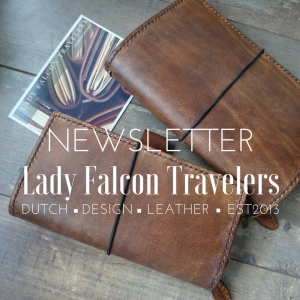 We are very excited to share the new logo for our Lady Falcon Travelers.
Starting from now, all new notebooks and wallets will have the new logo on it.
To celebrate this fact, all orders for Traveler's Notebooks or Hobo Notebook,from now till the end of March, will receive a complementary key-fob with the new logo on it.
SALE
Starting tomorrow, Monday, February 19, til Sunday, February 25, all our current Ready to ship Travelers will have a 35% discount.
This is before any coupon, so you can use your points to collect coupons to discount them even further.
Find them here
That's not all
To celebrate my daughter's 21 Birthday, this upcoming February 25th, we are having a special sale on all made to order Lady Falcon Travelers for 21% off. Only on Sunday, February 25th!
This sale includes all Leather lines, both Travelers and Hobo Notebooks.
Find these here
Leather lines
You may have noticed that we divided our Notebooks in different leather lines. We did this to make it easier to talk about the leather used and to indicate if a specific add-on is available with a certain leather line.
The Original Line, is the leather we started our company with and is a first choice full grain vegetable tanned leather. This is a firm leather that will require some breaking in, although this usually doesn't take too much time. This is the High end option in our leather lines.
The Pendragon Line, has been added at the start of last year and is a rustic full grain oily vegetable tanned leather. Firm yet pliable and will shape perfectly to your inserts. It only comes in one color. This leather is the medium price point in our leather lines.
The Morgana Line, Has been added to the store in the fall of last year and is a split grain oily vegetable tanned leather. It is firm yet nice and pliable and will shape perfectly to your inserts. This is our budget line collection.

Original Line
Is available with all our add-on options and comes with all pocket styles.
Best suited for customization. Some options can only be added to the original line. Like f.i. the new 221B Baker street add-on.

Pendragon Line
Comes in one color and, although nice and pliable, is quite thick. This is why we use the thinner wallet leather to add pockets to the Pendragon line instead of the same leather like we do with the Original Line.

Morgana Line
Available colors change with the seasons. You have the option to add single pockets to either side, the Professional style. The three colors we offer each season will no longer be available after we retire them.

Upcoming in March, a new Loyalty program with tiered rewards system.
A little sneak peek at the upcoming news for March…we won't tell too much yet, but I'm really excited about this. If all goes well, there will be tiers and you can pay with your points earned….YAY
That's all from us for now. I hope you have a lovely week,
xoxo Monique
Leave a comment
Comments will be approved before showing up.